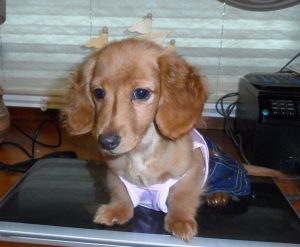 We have had dachshunds for more then thirty-five years now.  I received my first dachshund for my birthday in the  80's.  We decided to breed so we could enjoy the puppies.  Over the years our one dog has slowly multiplied to ten, sometimes more.   We raise them inside with lots of love and affection.  They are our family,  great watch dogs, love attention, socialize with our grandchildren and are very loyal to their owners.  The dogs love to travel and RV with us.  Some of our dogs have been purchased in different areas of the country during our travels.  Several of the females have been born and raised here in a rural setting outside Warren, Pa.
We are selective in who we sell our puppies to.  We like the potential buyers to come to our home and interact with the puppies.  We want the new owner and  puppy to have a great life together.
Because of the virus going around, we are being extra careful with meeting people and hope everyone will wear a mask when necessary.
We give a puppy packet which includes their AKC registration papers, a special blanket, a toy, a sample of the food they are currently eating and their medical records.  We follow up on the puppy's adaptation by emailing, calling or receiving a visit from the new owners.  We love receiving pictures of the puppies as they grow.
Dachshunds are for us and will continue to be in our lives for many years to come. We hope you love our/your puppies as much as we do.
Thank you for visiting our site.
Gene and Bonnie.
Dachshunds R 4 Us
Gene & Bonnie Conklin
14498 Route 6
Clarendon, Pennsylvania 16313
(814) 730-2937
Send Us an Email